K A T I E H O L M E S :
The Girl Next Door
katienholmes.com

Katie Holmes Talks About Directing, Motherhood and Mistakes

New York Times
By Kathryn Shattuck
12/2/16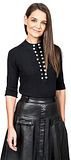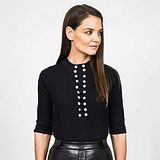 Katie Holmes has a thing for women. "I'm the youngest of five, I have three older sisters, obviously I'm a mom, and I feel comfortable with telling female relationship stories because I've been surrounded by so many women my whole life," she said.
So for her feature directorial debut, Ms. Holmes naturally chose a female protagonist — this one drowning in life's complications and fighting desperately to keep her daughter from going down with her.
In "All We Had," set during the 2008 financial crisis, she plays Rita, an impoverished Midwestern single mother who, fleeing the latest abusive man, aimlessly heads east with her 15-year-old, Ruthie (Stefania Owen). But when her car breaks down after she runs out on the check at a diner, she is offered a second chance by the owner (Richard Kind) and his transgender niece (Eve Lindley). (The film opens Friday, Dec. 9.)
In a phone interview from Los Angeles, where she lives when not in New York, the candid Ms. Holmes, 37, spoke about moving behind the camera and keeping Suri, her daughter with Tom Cruise, out of the Hollywood glare. These are edited excerpts from the conversation.
Had you wanted to direct for a while?
I directed an ESPN "30 for 30" on Nadia Comaneci, and it boosted my confidence enough to give a narrative a try. So I went to the book department of ICM and started reading this pile. And Annie Weatherwax's book really struck a chord in me. I liked that it was a mother-daughter story but that the relationship was unconventional in that it's more like sisters, and they're two survivors on the road. It had a quality of hope and healing that I really responded to — about people who falter but are resilient.
How hard was it to both direct and act?
Well, you don't sit down — that's for sure. [Laughs] It was really empowering. I knew that it was going to be very intense, and I had my notebooks of acting notes and directing notes, and the first day I just directed. And so it was the second day that I was like: "Oh God, here we go. If this doesn't work I'm in big trouble." But you just go for it. You do fumble and make mistakes. But I came out of it inspired to do it again.
Like your characters in "Pieces of April" and "Touched With Fire," Rita is demanding. Do you gravitate toward this kind of woman onscreen?
Yes, [long pause] I think I do.
That wasn't a condemnation.
You can condemn me if you want!
How did you bond with Stefania Owen?
It was challenging because she arrived a week before shooting, and we had to pull off being a very close mother and daughter who really, really need each other. We collaborated on little things — the wardrobe, holding hands at certain times.
At the end of the movie, you gave special thanks to "my daughter, Suri. Dreams come true."
It was my first film, and I want her to always know that she's the inspiration behind everything, and so hopefully it means something as she gets older. Just to let her know how important she is.
You've spoken highly of your mother's parenting skills while you were a teenage actress. How do you approach your own mothering?
I try to make our world very much an environment that's just all about being a kid without too much of Hollywood coming into that. And I just enjoy it. Honestly I think that there are so many books and opinions about how to be a great mom, and you have good days and bad days, and sometimes you do great and sometimes you could have done better. But I have to say I'm really enjoying having a 10-year-old. She's a remarkable person.
You're playing Jacqueline Kennedy again in "The Kennedys: After Camelot," a mini-series that follows her marriage to Aristotle Onassis and beyond.
She was an amazing woman that we're all very much mystified by, and there's a freedom to taking on a character like that because no one really knows how she felt behind closed doors. And I directed the third episode and had a wonderful time figuring out that world.
So they just said, "We want you to direct"?
Well no, I told them I wanted to. I said, "You've got to give me one episode." [Laughs] We gotta speak up, Kathryn, we gotta speak up and get what we want, because no one's going to give it to us.
So are you still single, or is there a secret marriage we have to talk about?
[Laughs] Nooo, I'm not married. But thank you for asking.